The #1 App In 2017 For Timing The American Total Solar Eclipse!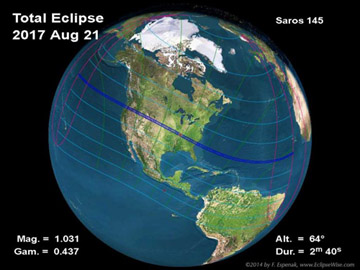 2017 Total Solar Eclipse Path

The 2017 total solar eclipse across the United States was something I was already planning for after my first eclipse on 2001. I knew it would be a wonderful day for the entire country. Not having to travel internationally has tremendous advantages. So I planned for more equipment and designed some scientific experiments. Between my previous eclipse in 2006 and this eclipse, two advances in technology made things interesting for eclipse chasers. The growth of the internet and specifically YouTube. And the release of smartphones, the iPhone, in June of 2007. Smartphones, of course, led to the re-development of the "talking eclipse timer" and the release of Solar Eclipse Timer which helped thousands of people have a better and safer experience enjoying the eclipse. And the growth of YouTube allowed me to start a channel called Solar Eclipse Timer, where I could use the video platform to share my experiences with others interested in eclipses and teach the nuances of total solar eclipse observing techniques and photography. All of the observations, photography, and science from this eclipse is explained in the videos on my YouTube channel called Solar Eclipse Timer. There is no other source on the internet for this wealth of eclipse information in a video format. PLEASE go to my YouTube channel, watch the videos and if you like my work please subscribe. My channel is located here.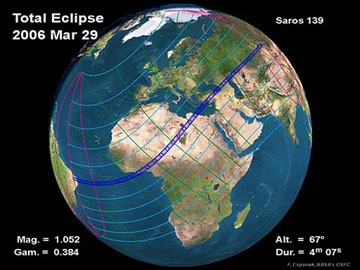 2006 Total Solar Eclipse Path

Due to this eclipse path crossing Northern Africa and logistical issues with observing the eclipse in Lybia, I decided to observe this eclipse on a cruise ship in the Mediterranean Sea. Cruise ships have the advantage of being mobile and can possibly travel to clear skies if the weather in the region is an issue. But they have the disadvantage of constant movement which limits the focal length of the camera gear you can use successfully. So adjustments in techniques are needed. In the year 2005, the first consumer HD Video cameras were released which recorded at 720p. So in 2006 I decided to use this tecnology as the primary way to document the eclipse since I would be observing on a cruise ship. I also did another video on the ship trying to document the changes in ambient lighting and a clip of that video is in my YouTube video titled Eclipse Ambient Lighting - Part 1. Watch that here.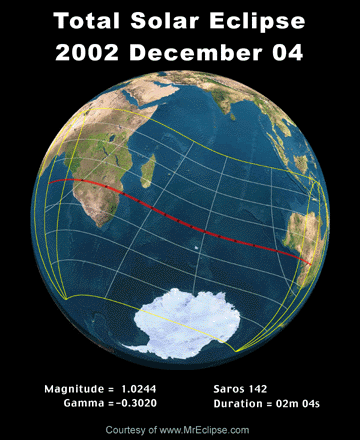 2002 Total Solar Eclipse Path

After my overwhelming experince in 2001 I was hooked on the thrill of total solar eclipses and wanted to get to another one. I had two objectives; develop the "talking timer" to help enjoy and photograph the eclipse, and to improve my photography and video techniques. I traveled to this eclipse with a group headed by the expert eclipse chaser Bill Kramer. He is a great guy. My talking timer worked perfectly, However, this is from the eclipse days before automatic geolocoation. So our contact times had to be manually extrapolated from the eclipse maps provided in the 2002 Eclipse Bulletin. This bulletin would get published for each eclipse by Fred Espenak when he was at Goodard Space Flight Center. So in 2002 my manual time entry into Eclipse Timer was was about 5 seconds off. This was enough error to cause me to miss getting video fo the the diamond ring effect before C2. This was the eclipse were I saw shadow bands! That started another mission of mine; try to understand the phenomena of shadow bands better. I have a video about what causes shadow bands here.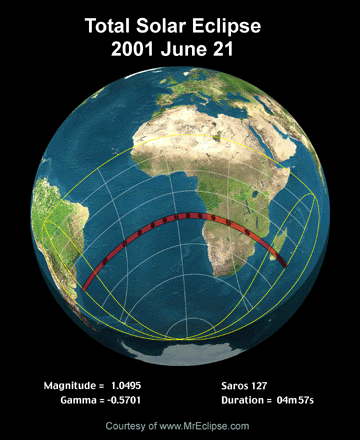 2001 Total Solar Eclipse Path

This was my first total solar eclipse. There were two prior eclipses that I desperately wanted to go to but could not: 1991 in Mexico, due to my surgical training and 1998 in Aruba due to the early years in my private practice. When choosing to travel to an eclipse the first two priorities are weather and totality duration. You want to choose a spot with the maximum chance of having clear skies. But do you really want to travel internationally for a 30 second eclipse? So it's a balance. Therefore, this eclipse presented a good opportunity even though it required international travel. It was in the middle of the dry season in Africa so the chances of clear skies was great! And it had a relatively long duration of totality of 3m35s.

It was a great choice for my first eclipse. It was the amazing event! I was now hooked on the expereince and the challenge of eclipse photogaphy and this eclipse prompted me to design and develop Eclipse Timer. The first "talking eclipse timer" which I would the use with my group for my second eclipse in 2002.