The #1 App In 2017 For Timing The American Total Solar Eclipse!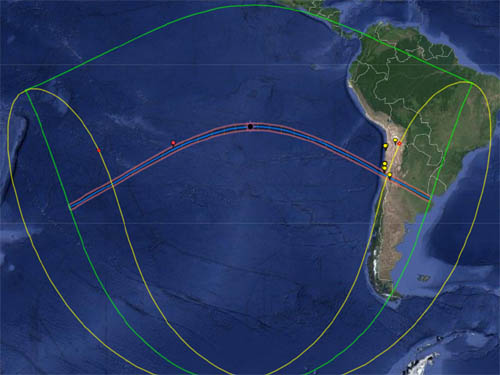 The December 14, 2020 total solar eclipse starts in the Pacific Ocean and has a narrow land track in South America crossing the entire continent. The Point of Greatest Eclipse is located in Argentina. The maximum duration of totality in Argentina is about 2m9s. By the time the umbra hits the coast of Chile the duration is 2m8s. Since the coast of Chile is almost in the middle of the path, this is a mid-fternoon eclipse in South America. (map by Xavier Jubier)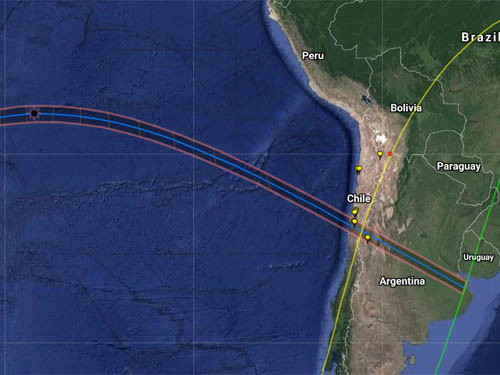 The 2020 eclipse is a very interesting eclipse since the path is almost centered over the continent of South America. Being a December eclipse in the Southern Hemisphere this is a Summer weather eclipse in South America. The latitude of the centerline varies from 39 to 41 degrees south so the temperatures will not be extreme. (map by Xavier Jubier)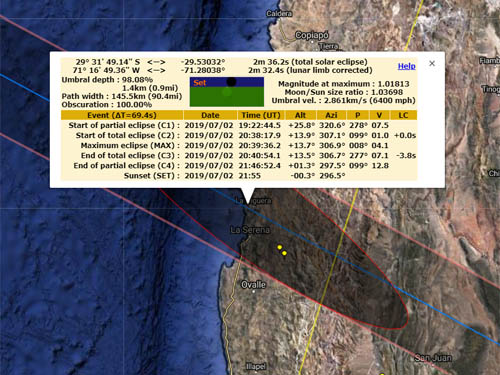 The altitude for the eclipse at totality is over 71 degrees along the entire path. This is a high eclipse and you need to check your gear to make sure it is compatible with pointing this high in the sky. The path on land has beautiful symmetry. Becasue the continent is so narrow at this region and the eclipse path is centered, there is very little variation in totality duration along the path. (map by Xavier Jubier)
Featured In Sky and Telescope Magazine, 2002, 2003 and 2017!
Copyright 2002 - 2019 Gordon Telepun and Foxwood Astronomy, LLC
Solar Eclipse Timer and the Solar Eclipse Timer logos are Resistered Trademarks of Gordon Telepun.
The Solar Eclipse Timer banner art and all other art related to the Solar Eclipse Timer website and mobile applications are protected by copyright.