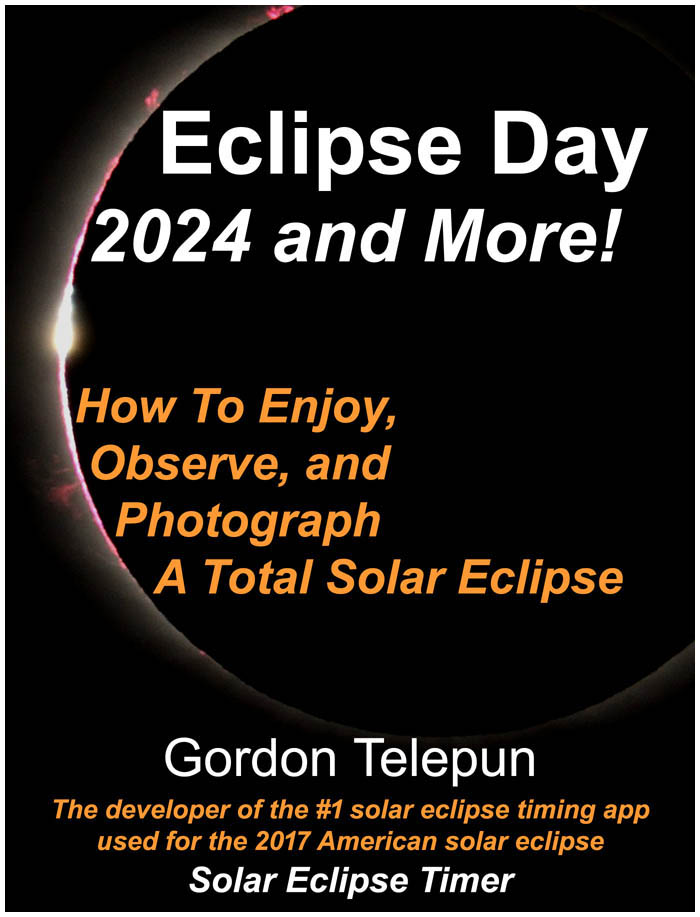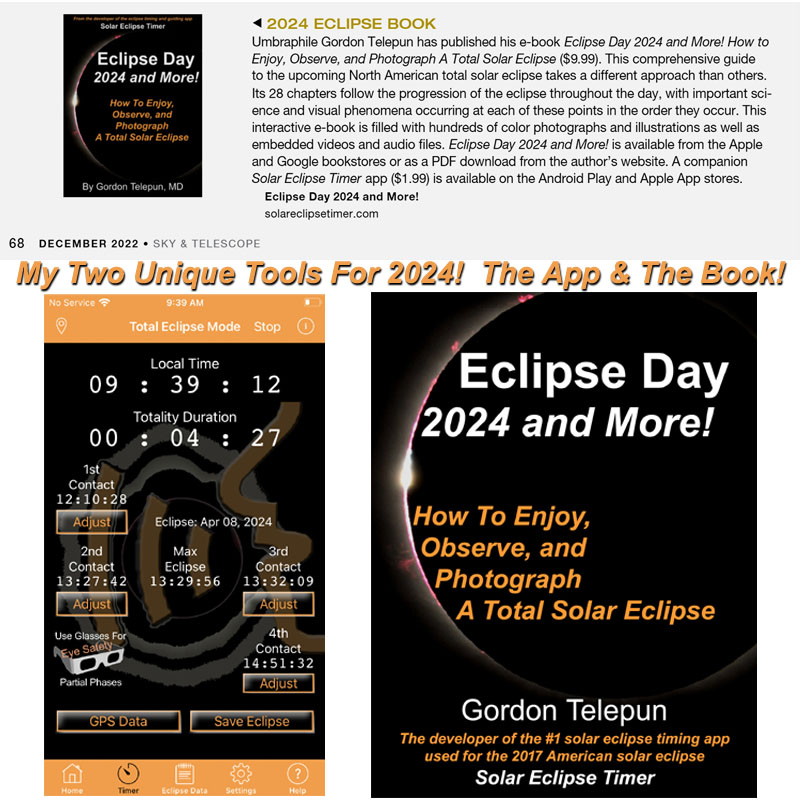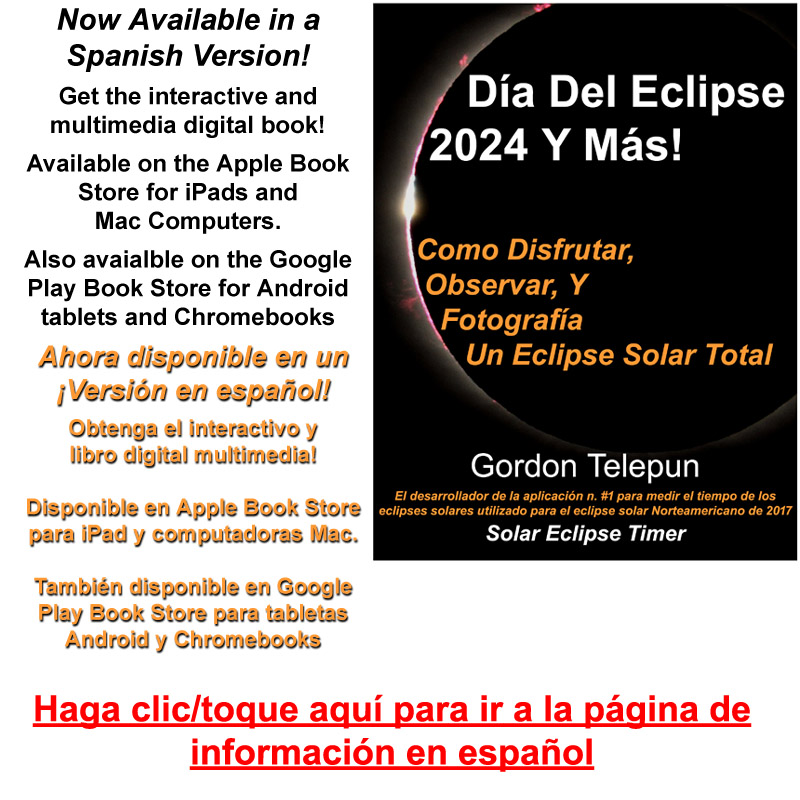 Now within a year of the 2024 U.S. total solar eclipse, I am thrilled that my book is already helping people prepare for the eclipse! It's a comprehensive guide, that is easy to read, to prepare for Eclipse Day. The unique format of this book takes Eclipse Day and divides it into 28 separate essential elements, from arriving at your observation site to leaving at the end of the eclipse. Each of those elements is its own chapter where the information about the astronomy, the science, the observation, photography, and videography techniques are discussed together. The Appendix is organized more like a traditional eclipse book with the following chapters: Basic Eclipse Astronomy, Simplifying Eclipse Photography, Wide Angle Eclipse Photography, Video Recording Ideas, Mistakes I've Made, The Next 10 Total Eclipses.
The book contains 240 photos, 225 illustrations, 175 dialogue boxes, 12 image galleries, 10 embedded videos, 18 audio files.
If you read my book, $9.99 (digital), $49.99 (print), use my app, $1.99 and watch my YouTube videos (free), I guarantee it will be the best money and time you can spend to get the most enjoyment out of this amazing eclipse!
The foreword is written by Bill Kramer a world-renowned eclipse chaser and eclipse educator.
Do Not Miss This Eclipse! Let me Help You Enjoy It With My Two Unique Tools!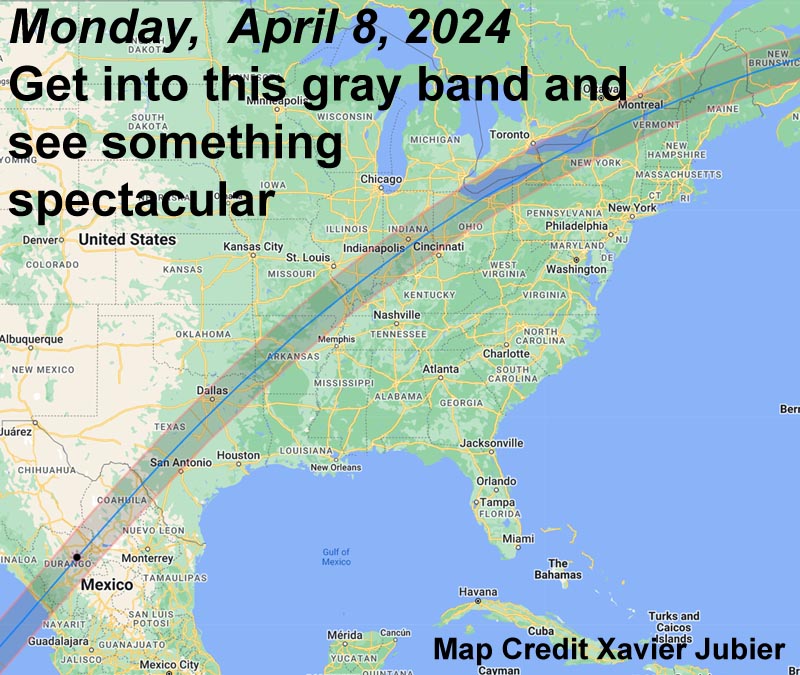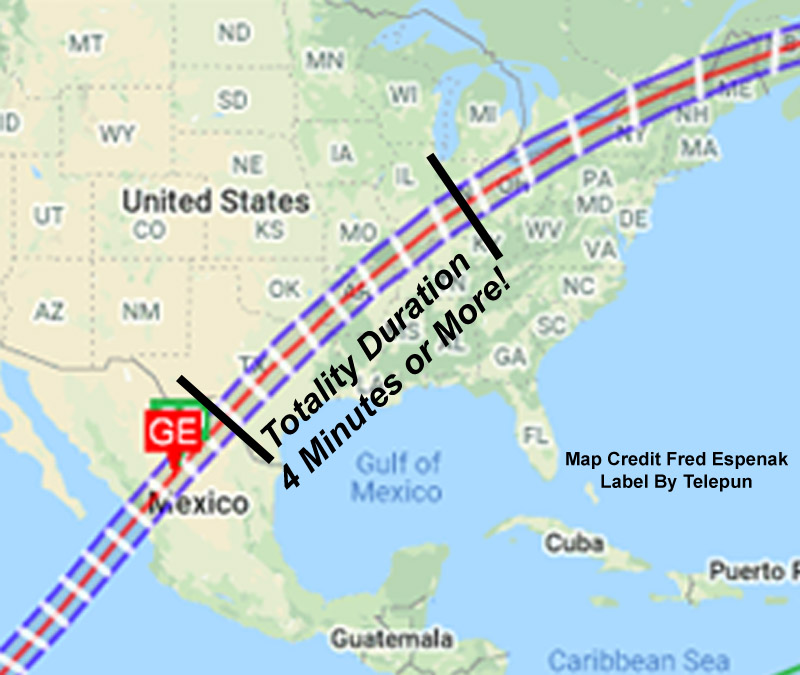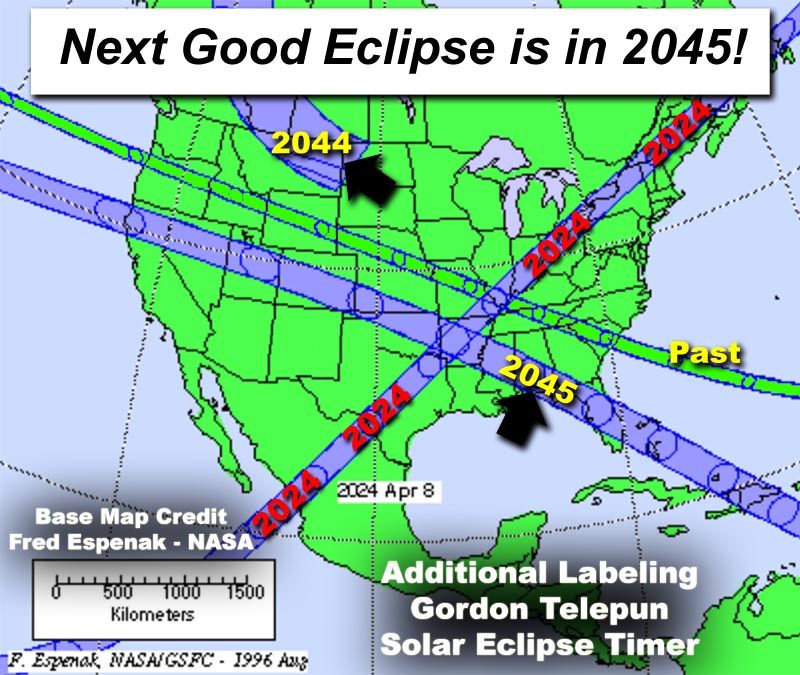 The digital versions of the book, Apple, Google, and PDF are $9.99. The printed book is $49.99 plus shipping.
THE CHAPTERS COVER THE PROGRESSION OF "ECLIPSE DAY"
1. Your Observing Site 2. First Contact 3. The Partial Phases 4. Temperature Changes 5. Pinhole Projection Images 6. Sharp and Fuzzy Shadows 7. Mysterious Eclipse Breeze 8. Convective Clouds 9. Animal Behavior 10. Ambient Lighting Changes 11. Shadow Bands 12. Umbra Approach 13. Remove Solar Filters 14. Diamond Ring 15. Baily's Beads 16. Second Contact 17. Totality 18. Planets and Stars 19. Max Eclipse Horizon 20. Third Contact 21. Baily's Beads 22. Diamond Ring 23. Replace Solar Filters 24. Shadow Bands 25. Umbra Exit 26. Final Partial Phases 27. Fourth Contact 28. The Eclipse Ends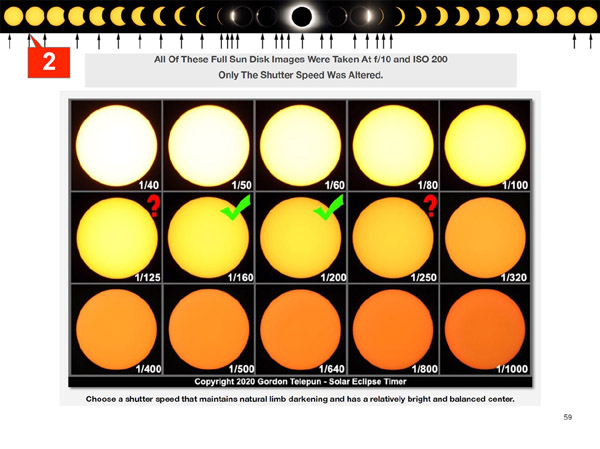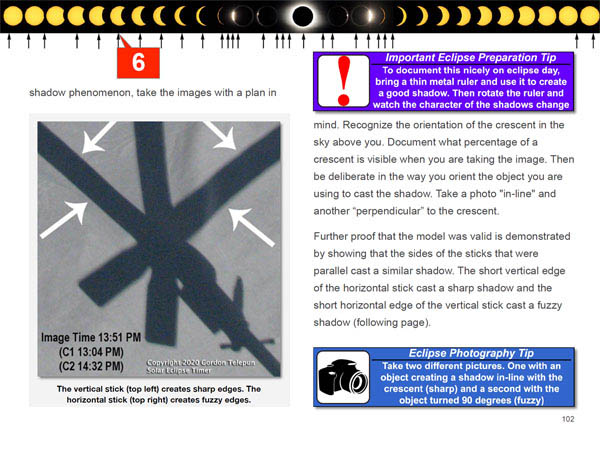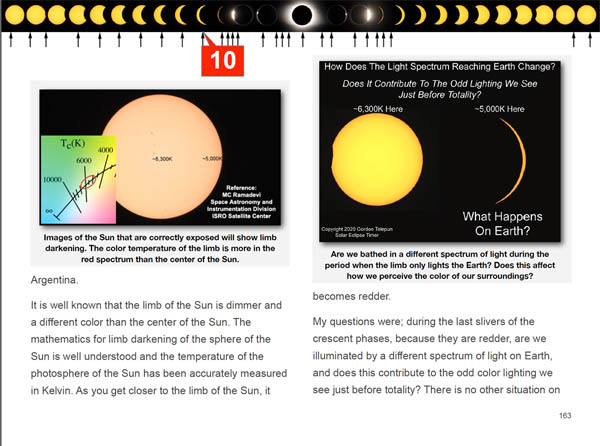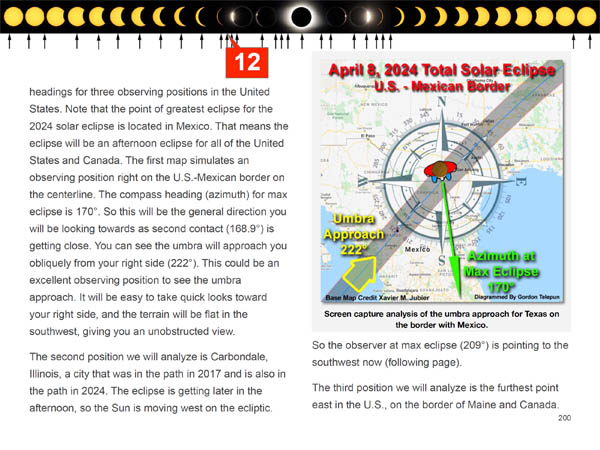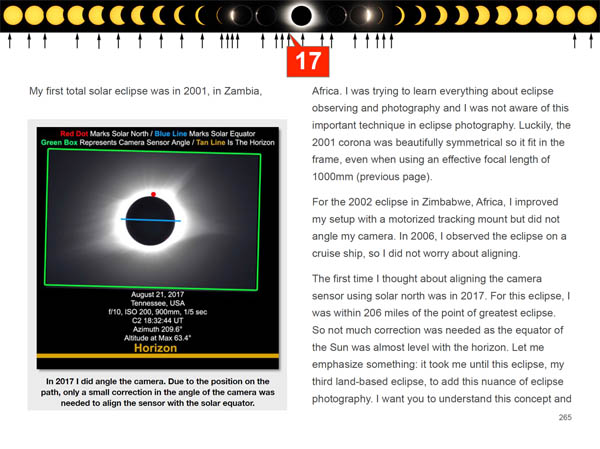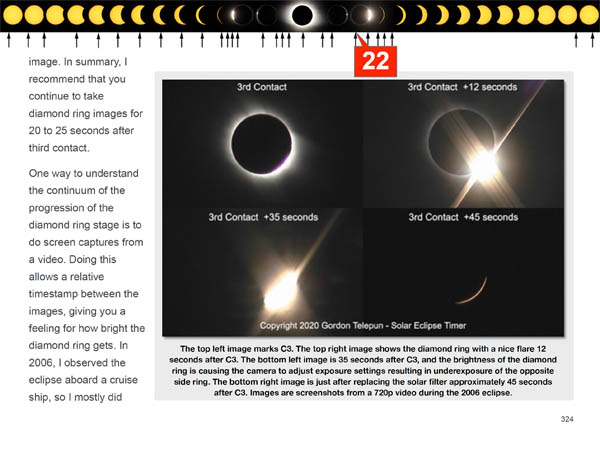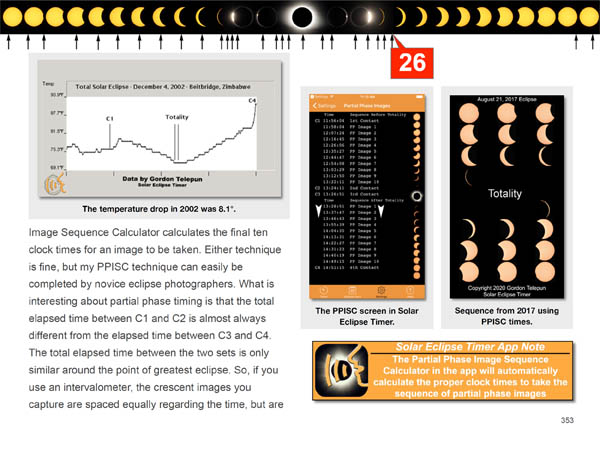 The Appendix Chapters Have More Detailed Information

Featured In Sky and Telescope Magazine, 2002, 2003 and 2017!
Copyright 2002 - 2022 Gordon Telepun and Foxwood Astronomy, LLC
Privacy Policy can be found HERE
Solar Eclipse Timer and the Solar Eclipse Timer logos are Resistered Trademarks of Gordon Telepun.
The Solar Eclipse Timer banner art and all other art related to the Solar Eclipse Timer website and mobile applications are protected by copyright.
Contact Email: solareclipsetimer@gmail.com